The Life Changing Magic of Tidying up your Workspace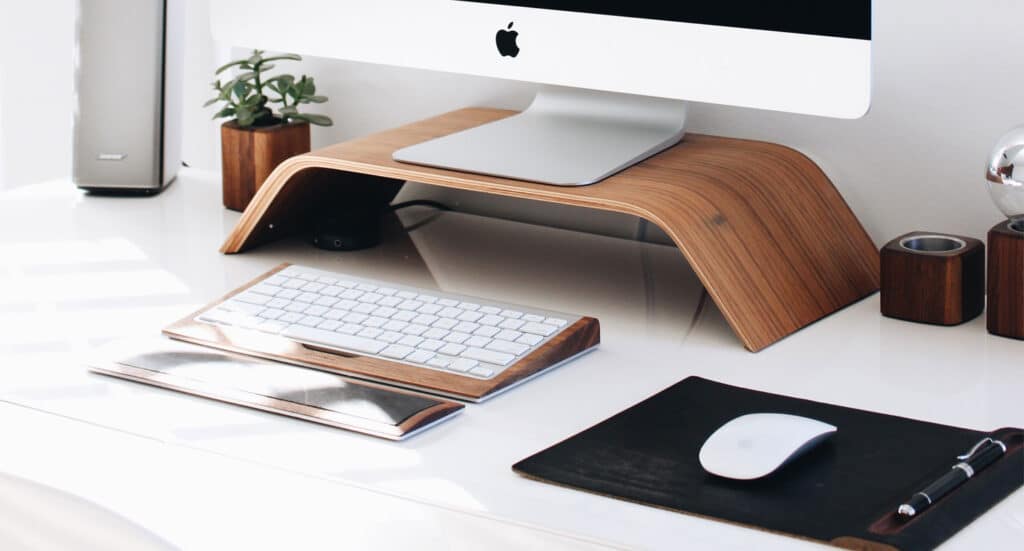 In Marie Kondo's book, the Life-Changing Magic of Tidying Up, the ability of identifying what brings you joy leads to a space filled with items that you love, the goal is to get your space and items in order and lead a life that sparks joy every day.
You can apply the KonMari principles to the workplace as well. Whether you work in a corporate environment or as an entrepreneur in a home office the surroundings in which you work affect how you get things done. Research shows that a cluttered environment creates distractions and affects overall output.
Although most of your time is probably spent in front of a computer the surrounding clutter on your desk can serve as a distraction as your attention is taken away from the task on your monitor. As if that wasn't enough the constant digital clutter, pop up screens, email notifications, system upgrade notices, screen icon clutter all distract us from the current task and demand our immediate attention.
How do you set yourself up for success so that you can focus and do what you need to do quickly and efficiently?
Before you organize your workspace you will have to decide what stays and what you let go of by determining what serves you best in your workspace and your current work role.
Similar to the principles of KonMari you will focus on the category, not location. Start by grouping similar items in your workspace.
Start with books, any duplicates? Which books do you need to keep as reference, can you find the information online? Do you really still need that manual from a few years ago hiding in the bottom of your desk drawer. Be greedy with your space and seek out opportunities to make more free space.
Paper is next, do you need paper copies of memos or can they be scanned and stored on your computer? Paper files, is there duplication? Can anything be stored digitally? Shred any confidential paperwork and recycle paper you do not need. Junk mail, flyers? Do not let these enter your space. A quick glance and then they should go right into the recycle bin if you do not need them. If you will not be using information on a flyer in the next few weeks let it go, trust me a similar flyer will come around again (and again).
Next, go through all of your stationery. It will become very clear, very fast that you probably do not need 50 blue pens to best serve you. Go through this process with all of your stationery and keep only what you need. Do not warehouse stationery, why should you use up your space to stock inventory for a store unless of course you are a store! Buy what you will need for the next month and if you run out there are a multitude of stores open at all hours for your convenience. When you buy less, things do not get buried under piles which would otherwise lead to buying duplicates.
Imagine you are done. Visualize what that looks like. How does that feel? How does it feel to have a clutter free office? Every item will have a home that it goes back to. You will also have fewer items and you will find things easier. There is actually clear space on your desk.
Keep that nice clean desk clear with the exception of a "to do tray" and a "done tray". Once a day clear out the "done" tray, file it or store it digitally. This is a very simple approach, but it works wonders for eliminating paper clutter from a desk, freeing you to be more productive.
Apply the same principles to your computer. Clear the digital clutter, the icons and constantly purge the files. Always remember, the simpler the better! A few descriptive root folders will serve you better than a multitude of subfolders.
Simple changes can make a big difference. Decreasing clutter in your workspace can lower your anxiety and the feeling that things are out getting out of hand. Controlling your environment can you give you the boost you need and help you to be happier and healthier and ultimately more productive.
Looking to for help on your tidying journey? Download our free checklist "Tidying the KonMari Way"
About Effy
Effy Terry is the Founder and Lead Organizer of Organize That.  She is a Certified KonMari Consultant and a Trained Professional Organizer. She has over 25 years of experience as a senior event manager, and project manager, is a former real estate salesperson and also has formal mediation training. She also has a Bachelor's degree in Psychology from the University of Texas at Austin.